Congratulations to CEI Michigan!
CEI Michigan, LLC was recently awarded the Carlisle's ESP award of 2017. They were given the title of one of the most successful Carlisle contractors in the commercial roofing industry. The award is based on quality and volume of installations of the Carlisle roofing system. CEI is excited about their achievement as a company, as this places them among some of the most elite contractors in the industry.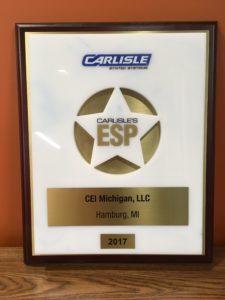 Thank you to Carlisle's for recognizing them as one of the highest ranked applicators. Carlisle is always a contractor friendly company and there product is extremely trust worthy. As a company, CEI is always happy to work with them and are honored with this award.