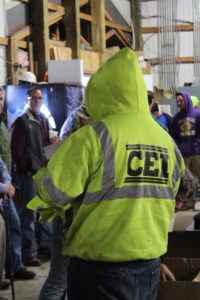 Happy National Roofing Week to everyone! Yesterday we kicked off with a wonderful employee appreciation day! All of the  CEI team had got pizza or breakfast delivered to them as a token of our appreciation. It was a great start to an exciting week.
Every day this week has a theme or focus to be talked about. Today's (Tuesday) focus is on Employee Training!
A key part of being a quality roofing professional is ensuring that all members of your team are properly trained. CEI focuses its training efforts in two major areas; safety training and job skills training.
Safety Training
CEI started a bigger push on safety about 7 years ago.
"We had a couple of tough safety years before that and there was also a big push from our Consumers to step up safety. It had always been something we did, but we started to make it something we live everyday." -Kristine Cook Lindsey, Vice President
CEI always met safety regulations but after those couple of years, they decided it was going to be one of their main goals to excel in safety. They posted a large board that read "Days since an accident". The goal was to publish what was happening in regards to safety and make everyone responsible for safety on the job.
In 2011, they added a full-time Safety Director to there team. He was tasked with keeping up with regulations and revamping the training program.
CEI safety standards started to grow and in 2016 they added another full-time position to the Safety Department, a Safety Manager.
In 2017, CEI was awarded the NERI safety excellence award for there efforts. Today, CEI's safety training looks like this.
Monthly Foreman Safety Committee Meetings- To review how the company is doing and identify where and how to improve. Critical feedback from the field participation is key in these meetings.
Six Company Wide Safety Meetings- Every other month there is a different focus presented by our Safety Director or we bring in guest speakers to keep safety in the minds of the Foremen.
Weekly Toolbox Talks- These also focus on important safety issues but are run by the Foremen to stimulate discussion on safety and provide training opportunities for our crews.
Daily Hazard Identification Checklists
All Foremen are required to be 30hr OSHA Certified 
All other workers are encouraged to be at least 10hr OSHA Certified 
CEI's insurance group also has its own Safety Requirements that CEI is annually audited on.
Job Skills Training
The other focus area for training is skills training. CEI as a union contractor is supportive of apprenticeship programs that serve to develop skilled professional Roofing and Architectural Sheet Metal Journeymen. Some of the ways that CEI supports skills development are-
Manufacturer Training-  CEI is certified in almost every type of roofing system. CEI sees this as a way to open doors for new and interesting projects. We want to know how to do it all so we can take on any project start to finish.
Local 70 Union Block Training- CEI helps support their local union by participating in block training programs. They often help with the Crane and Lift classes.
Employ apprentices- To provide critical field training experience