Workplace stretching programs are on the rise and a new hot topic for the construction industry. Roofers and other construction employees are often subjected to routine movements, heavy lifting, and strenuous body positions. This daily wear and tear can leave employees with pain and discomfort. After years of being in the industry, this can result in soreness and injury. A 2018 goal for CEI was to craft and implement a Stretch and Flex Program for our employees. Our program was recently launched, checking that goal off of our list!
Benefits of Stretching
Flexibility
Promotes Strong, Health Muscles
Improves Joint Range of Motion
Improves Performance in Physical Activities
Most of the benefits of stretching come from developing better flexibility. Being flexible and having long and lean muscles can result in prevention of injury and can reduce pain. Athletes do it all the time, they focus on muscle groups specific to the sport to stretch and strengthen the ones that are actively used. Our workers do just as much as most athletes, they bend, lift, climb carry and so much more. Why shouldn't they have the same routine of stretching? The answer is that they should! Stretching before doing physical work can only help.
CEI's Daily Stretching Routine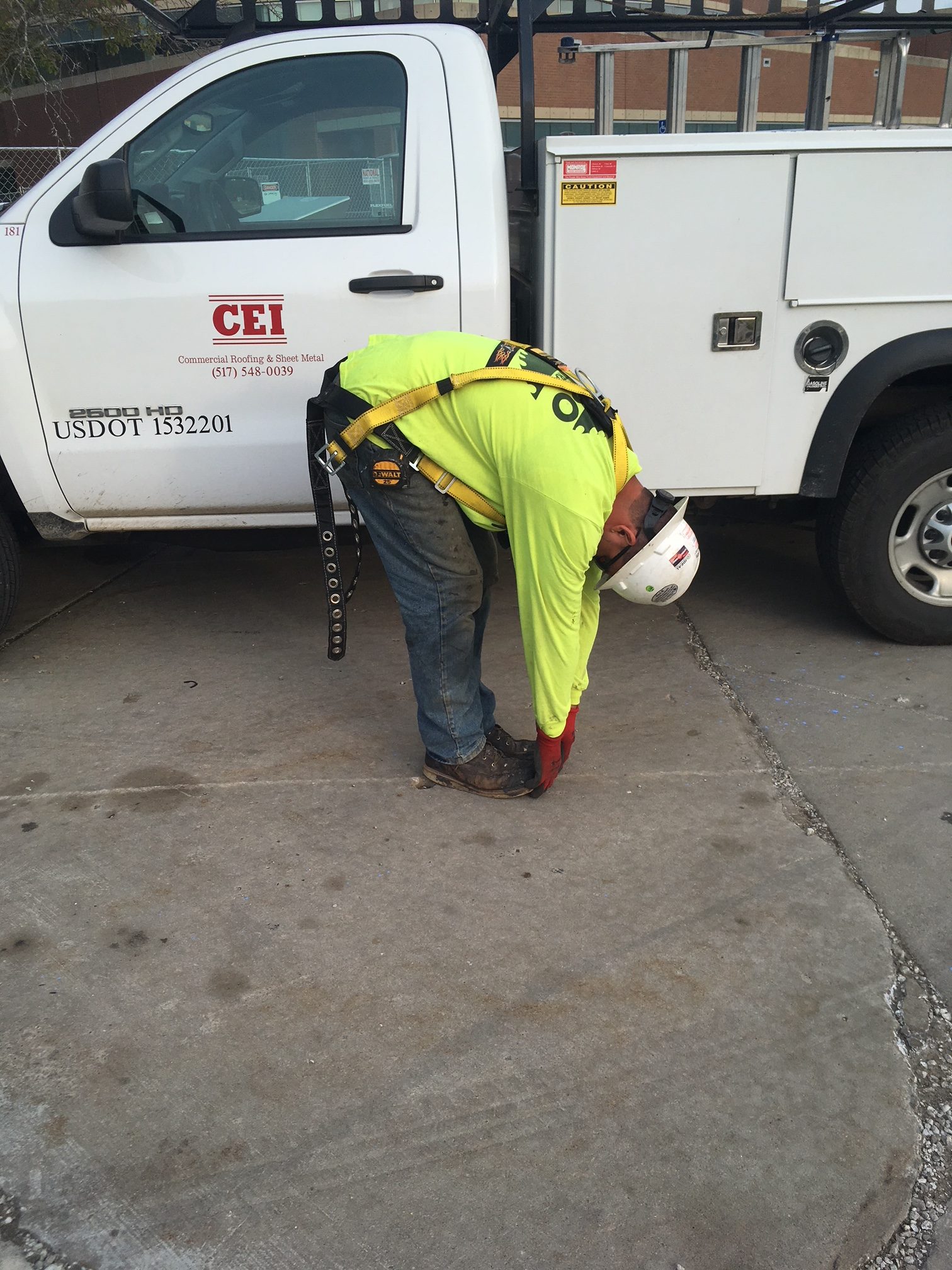 As a new add-on to our safety program, all field and service crews are required to perform a daily stretching routine every morning before getting on the job. This is to length and strength there muscles before getting to the physically demanding part of their day. Most of the crews enjoy it and believe they feel better after doing it. Each morning on the job, the foreman host a huddle with the crew. In this huddle, they talk about the day's event and go through there checklist together. Before this program, they would head onto the roof after that was complete. 
Now that this has been put in place the foreman leads the stretching session with the entire crew. Every day he goes through the same stretching checklist and signs-off that the crew participated in the Stretch and Flex program. Since this has gone into place, office staff have also taken to doing the stretches. They believe that it helps them stay loose and not get sore from sitting or working on a computer all day. It also allows them to break up there day and add some movement.
CEI's Stretch and Flex Program-
Neck stretch
Quad Stretch
Calf Stretch
Inner Thigh/Groin Stretch
Chest Pull
Forearm and Wrist Stretch
Shoulder Stretch
Lower Back Stretch
Source: https://www.health.harvard.edu/staying-healthy/the-importance-of-stretching